Se su VMWare Server (con Firefox 3.6), dopo aver cliccato su "Power On", avete provato ad aprire la virtual machine in una nuova finestra e vi è comparso l' errore (vedi immagine):
Cannot access virtual machine console. The
request timed out.
The attempt to acquire a valid session ticket for "nome_VM"
took longer than expected. If this problem
persists, contact your system administrator.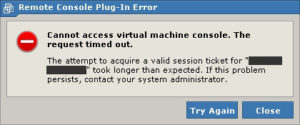 potete provare a:
disinstallare e reinstallare il componente aggiuntivo "VMWare Remote Console Plug-in" e riavviare Firefox. [1]
disattivare o disinstallare il componente aggiuntivo "Flashblock" e/o il componente aggiuntivo "NoScript" (se ce li avete) e riavviare Firefox.
usare un altro browser. [2]
disinstallare Firefox 3.6 e installare la versione 3.5.x. [3]
[1] Purtroppo, nel mio caso, la disinstallazione di tutti i componenti aggiuntivi e successivamente anche la reinstallazione di Firefox 3.6 non hanno portato a niente e l'unica cosa che ho potuto fare è stata quella di tornare alla versione 3.5.x di FF.
[2] Ho provato a usare anche Explorer 8, Opera 10, Safari 4 e Chrome 4 e nessuno di questi mi ha dato l'errore.
[3] Attenzione, il passaggio alla versione 3.5.x potrebbe essere rischiosa, perché, come si legge dal sito mozilla.com "Firefox 3.5.x will be maintained with security and stability updates until August 2010. All users are strongly encouraged to upgrade to Firefox 3.6."
Se qualcuno riesce a trovare una soluzione al problema mantenendo la versione 3.6 di Firefox, me lo scriva cortesemente nei commenti. Grazie mille.